Wednesday, July 11, 2012
10:29 pm
Daniel J. Summers
Earlier today, I saw a link to a blog post about a man, Michael Salman, who had been thrown in jail and fined for hosting a Bible study in his home. We've seen things like this before, but what made this one unique is that it was in Arizona; yes, this is happening right here in the land of the free and the home of the brave. I shared the link with others, voicing my support for him if the situation was as it was presented. However, a friend followed up with a link to a news story that gives more of the history and what has happened. As it turns out, the original post is highly-slanted advocacy that left out some key details. The more I've thought about it, the angrier I've become, to the point where I now hope that Salman comes to his senses while he's in jail.
Here is the Cliff's Notes version of the first post (feel free to read it if you'd like). This man and his wife were having family and friends over for a Bible study on a weekly basis. Neighbors complained about the extra cars and the traffic, and the fire department broke up one of their studies. The man then gets building permits for a 2,000 square foot building where the number of people could be without causing a fire hazard. Since erecting that building, he has been continually harassed and accused of running a church on his residential property. He maintains that these are simply guests in his home and new out-building, and that they have as much of a right to be there as would a birthday or Super Bowl party. Salman is now facing 30 months in jail and $12,000 in fines.
Sounds pretty bad, huh? Well, my opinion began to turn when I saw a picture of his yard…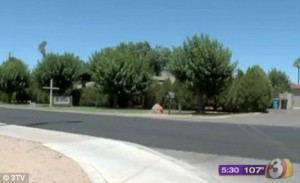 OK - the "this is not a church" claim just became very, very hard to swallow. From the above link, plus another from the DailyMail, we learn some other interesting facts. First, Salman is an ordained minister. Second, this out-building, contrary to the restaurant-looking picture from the Freedom Outpost article, is equipped with a pulpit, stage, and chairs. Third, these Bible studies were hosted on the weekend. A time of Bible study on the weekend in a building with a pulpit on a stage… If only there were a word that would be more succinct to describe that sort of thing! There is, and it's the one the city of Phoenix used - church.
This brings me to the angry part. My anger is based in the blemish to the name of Christ that this has caused, and for the people who are going to look like fools for supporting this when the first, incomplete, biased, and dishonest story came out.
Yes, dishonest; candor is a part of honesty, and involved disclosing information that the hearer, upon learning that it was not disclosed, would feel wronged. There is real religious persecution going on all around the world; this does NOT rise to that level. In the realm of ideas, honesty is paramount. This is why so many arguments fall flat on their face when all the facts come out; even those who claim that their are no absolutes tend to still hold honesty as a moral character trait.
Secondly, what happened to "love your neighbor as yourself," Mr. Salman? A Super Bowl party and a birthday party are both once-a-year events, and even those have been broken up by police and fire officials if they cause a safety concern. You knew that your neighbors did not like the extra traffic, particularly when your study expanded from 15 to nearly 40. I'm sure there is a restaurant in Phoenix that would love to have a weekly banquet room reservation for 30 people; there are two I could attend in the Albuquerque area every week. But, rather than show peace and love, you extended "the middle finger of the Lord" to your neighbors and the city. You are now reaping what you have sown; how can you expect your neighbors or the city to have mercy on you when you were not interested in giving it to them?
Thirdly, Mr. Salman, did we miss Romans 13:1-2?
Let every person be subject to the governing authorities. For there is no authority except from God, and those that exist have been instituted by God. Therefore whoever resists the authorities resists what God has appointed, and those who resist will incur judgment.

- Romans 13:1-2 (ESV)
The city told you what you needed to do. They did not prohibit you from continuing to have meetings; they told you the codes with which you must comply if you wanted to continue doing so. All churches have to meet building codes; if you have any doubts regarding their importance, compare the earthquake devastation in countries with them to the devastation in countries without them. They ensure public safety where large numbers of people are present on a regular basis; a building does not have to be a public building to meet this criteria. You chose to call your meetings something other than church to get around that (see how that honesty thing keeps cropping up?), you got called on it, and now you have, to quote Paul, "incur[red] judgment."
Mr. Salman, I hope you use your time away to think about what you have done. Will the world be better off if your 5 children show the world the love of God the way you've modeled it for them in this situation? And please, be HONEST when asking for help. There are good people who will support you, but we don't want to be played for fools. By doing what you have been doing for the past several years, YOU ARE HARMING THE CAUSE OF CHRIST. Christ did not come to give us freedom of religion; He came to free us from sin. He chose to place us in a country where we have very few limits on the free exercise of religion; don't lose sight of that because you happen to have bumped up against what you view as an impediment on that free exercise.
The good thing in all this is, Mr. Salman, that grace is always there. You can receive it, and you can extend it. This cause is not hopeless, especially if you change the focus from "I have a right!" to "where does God want me to hold this study?" Who knows the ministry God may have for you if you get out of a landlocked residential neighborhood and into some place with room for growth?