The Cain Train - All Aboard!
Thursday, September 29, 2011
1:31 pm
Daniel J. Summers
I've made no secret of the fact that I support Herman Cain as the Republican nominee for president in 2012. With his recent victory in a Florida straw poll and passing both Rick Perry and Mitt Romney in a recent Zogby poll, he's certainly on the rise, and going to be a player in this Republican primary season. However, if you watch the news or listen to the traditional pundits, you'd think that this is a 2-man race between Romney and Perry!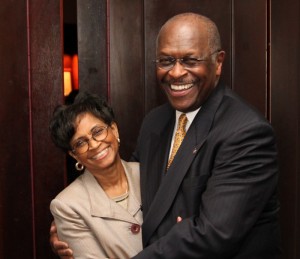 The Cain Administration filled the role
of First Lady 43 years ago
There have been some other "flashes" in the primary season so far, but each of them occurred after the candidate announced. Cain was one of the first declared candidates, and every time he talks, his numbers go up. One of the complaints many of us had in 2008 was that we felt that John McCain was selected by the media rather than elected by the people. "He's electable," they said, "unlike these other guys…" To an extent, this is the prevailing narrative surrounding Perry and Romney; the former isn't electable, while the latter is.
The media doesn't want to acknowledge Cain, because he causes some problems in their view of the way politics in America works. (If the name wasn't already taken, maybe we'd call them "inconvenient truths"...) Let's take a look at these; rather than liabilities, these are strengths that will not only force conversation on these issues, but areas in which he resonates with the average American.
1. He's black
As a Democrat, this is a plus; as a Republican, this must mean that there's something wrong! (Yet we're the ones who are called racists - go figure.) Republicans have been pilloried as racists (or worse) for not supporting various Democrat candidates over the years - Jesse Jackson, Geraldine Ferraro, Barack Obama - with claims that we didn't support them because they were black or female. Why the "impartial" media amplifies these ridiculous claim is probably a bigger topic than we have time for here, but they are willing accomplices in painting the party of Lincoln as racists. Only in the affirmative-action-addled mind is one's race or gender a plus (if you're a minority) or minus (if you're a white male).
The media simply cannot abide a black man with a broad base of Republican support. I honestly believe that their minds are so steeped in their fantasy view of the world that they can't wrap their minds around this. This is a plus for him; his story of challenge-to-success is both authentic and inspiring. There was great celebration around Obama's election, which proved that racism was over; a week later, we started with the stories about how he was in danger because these racists wouldn't accept a black president. There is no appeasing these race-accusers; refuting their claims via our actions is the only thing that will may silence them.
2. He's successful
This blows up the media narrative as well. He isn't a low-to-medium-performing "diversity" hire (hired solely for his skin color), he has used his own education and work ethic to rise to the top. Through his two turnaround-CEO roles and his leadership of the National Restaurant Association, he has shown that you can get tangible results if you're willing to roll up your sleeves and do some hard work. While our current president was fomenting and organizing rage against the establishment (you do know what a "community organizer" does, right?), Herman Cain was working hard, making his businesses profitable, and stimulating both the national economy and the personal economies of his company's employees.
We should have known what we were in for, starting with the "present" votes in the Senate. Then, on to the ridiculously-named "Office of the President-Elect" (it's called a "transition team"), the job-killing health insurance mandate, two stimulus plans (plus an attempted third in the name of jobs) - I'm hard-pressed to think of a single program that the current administration has attempted that has actually made things better. It's time for a leader with proven results.
3. He's electable
I think that the media doesn't know what that word means. Bob Dole and John McCain? Electable. Ronald Reagan and George W. Bush? Unelectable. Yeah, that must be in some AP style guide somewhere, that mandates the opposite use of that word. Maybe it's like with your kids, where they don't seem to hear the words "not" and "don't," choosing instead to do whatever it is you just prohibited.
This narrative on electability is just laughable. The media cannot see through their bias to understand what the average American actually wants. They want jobs. They want to be successful. They want to see their neighbors successful. They want to be able to make decisions for their family without the interference of a heavy-handed government. This is exactly what Herman Cain brings to the table, and stands in stark contrast to the current administration.
So - if you're expecting the "news" to inform you on Herman Cain, you're going to be waiting a while. If you think I'm off-base, research him and see for yourself. If you agree that the above sounds good, let's get together and work to make sure that Cain's success is so huge that even MSNBC can't ignore it!
UPDATE: Today's Wall Street Journal has an article called "Taking Cain Seriously." It summarizes Cain's qualifications quite nicely.