100 Day Report Card: D-
Thursday, April 30, 2009
12:03 am
Daniel J. Summers
Yes, in 100 days I've gone from "skeptically optimistic" to hoping that 3 terms of Republicans can stem the tide from 4 years of our current administration. For all of the left's making fun of Bush, and VP Biden's history of gaffes, who knew that the current administration would make them look downright composed? It's Amateur Hour at the White House, and our kids get to pay billions of dollars for us to watch!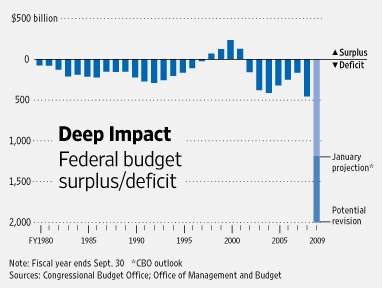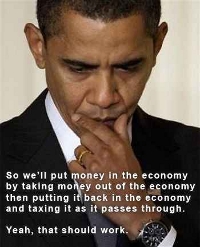 Economics: F (only because F- isn't technically a grade)
You would think that this would be the current administration's strong spot, seeing that they won the election last year based on the crappy economy (or so they'd have you believe). Yes, the fiscal irresponsibility of the final year of the Bush v2 administration looks miserly compared with this stimporkulus and budgets we're being asked to finance. The graph to the right gives an illustration of the impact of the current budget, compared to budgets under Reagan, Bush 1, Clinton, and Bush 2. Just as the New Deal lengthened the Great Depression, these artificial attempts to "fix" the economy are actually doing it more harm. Then they label those who are against it as dangerous - but more on that later.
National Security: D-
This one was not an F due to his quick response to the Somali pirates who had captured the captain of a US ship. Regarding the F/A-22 cutbacks, these were being discussed even in the previous administration, and even so, the "cutback" still result in more airplanes being built and delivered to fill the order. I don't really have a good feeling one way or the other. The F/A-22 has been in work a long time, and had a lot of money already. To throw that away, when we used its predecessor for over 30 years, seems foolish to me. However, with the services merging more and more operations, perhaps it's smart to have a plane that's built to specifications from all interested parties. Time will tell. The release of the CIA memos, though, was a bad move, which I discuss in the next subject below.
Foreign Affairs: F
How many ways are there to mess this up? Maybe we should bow to another head of state. Maybe we should give the Queen of England an iPod with your speeches? How about giving 25 Region 1 DVDs to someone who can only legally play DVDs from Region 2? Maybe we could use the term "England" to tick off a good portion of one of our strongest allies. And these are the people who made fun of Bush? Maybe they should've left some folks from the White House Protocol Office on staff to train the new folks. I know that it was Kerry's slogan and not Obama's, but isn't this the party that wants to make us "respected around the world"? Ignoring years of tradition and protocol is not the way to make that happen.
And, the release of the CIA memos has made us look even worse. We have people hyperventilating on both sides over whether waterboarding is torture. The ones who do us harm know that they don't have to do anything for a while, because we're doing it to ourselves. What the administration doesn't seem to have thought through is that, though in this country, it may be easy to pin all that on the Bush administration, to the rest of the world, it's still "America" that did it. And, if they know that we don't have the stomach for it (would it really have been that out-of-line to put a caterpillar in a room with a terrorist?), their job is easier. The CIA agents are demoralized, and the enemy is emboldened. Call it what you will - naive, oblivious, amateur hour - it's dangerous, and it's made our country weaker because of it.
And, to those hyperventilating - if you're ever captured by them, you'd better pray that waterboarding is the worst thing they do to you. Because we're humane, we've come up with ways to make people think that they're being tortured, when they're really not. Torture has lifelong implications to your health and mobility; John McCain can't lift his hand above his shoulder - that didn't come from waterboarding.
(Even the decision to stick by the Iraqi withdrawal timetable couldn't raise his grade in this subject.)
Domestic Affairs: F
Janet Napolitano is a joke. "Nonetheless, to the extent that terrorists have come into our country or suspected or known terrorists have entered our country across a border, it's been across the Canadian border. There are real issues there." "Crossing the border is not a crime…." Tax Day Tea Party protesters are dangerous right-wing extremists, and they could easily recruit returning combat veterans. I don't feel that our homeland is very secure - I feel that this department is now being run as a playground for political paybacks. Then there's Hilda Solis, the Labor Secretary confirmed because the Republicans just got tired of fighting. I saw one interview on TV where she must've claimed "but we've only been here 5 weeks" about 7 different times. That's not the way a leader talks. An amateur hour two-fer.
Social Affairs: F
I believe I covered Obama's revocation of the Bush executive orders regarding federal funding for embryonic stem cell research. (I've bolded the important parts, because I'm sick and tired of the liberal "You're opposed to science!" mantra. No, we're not - we're opposed to the government paying for research that destroys unborn humans, especially when it has shown no signs of finding anything, but other, similar, non-lethal-to-the-donor research has. (And, check out #1 under "Adult Stem Cell Advantages.") What you fund, you get more of - fund more experiments on dead babies, you get more dead babies. I happen to be against dead babies, born or unborn.) When Obama rescinded that executive order, he also rescinded one that allows funding of ethical experiments. A good analysis of what that means is here.
He gets a pat on the back for supporting traditional marriage; however, I think that battle is lost. The demise of marriage came not from non-traditionalists, but from people who decided that a promise of forever can be undone by a piece of paper signed by a judge.
Well, he's got a solid 0.2 GPA headed into day 101 - nowhere to go but up, eh?